Caramelbod Male Escort - Interview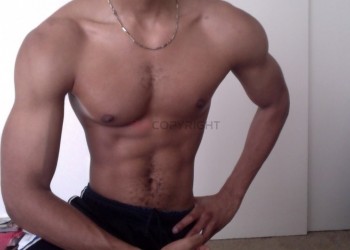 Q:Do you have a list of clients that you see regularly that you have formed a special bond with? Would you feel 'cheated' if they saw another girl like how hairdressers get mad at you if you get your hair cut somewhere else?
A:Well, if my client went to a woman I'd tell her to bring the other woman along and we can have a session free of charge.
Q:How do you handle first-timers or those who have limited experience with escort services? What are your suggestions to such clients to make your encounter the most enjoyable?
A:Know that as a client, you are there to get what you want. Now that doesn't mean be rude or demanding, but understand that who you are with wants to leave you better than you came. Take the time that you find is reasonable to build up comfort with your selected escort and don't be afraid to ask them questions.
Q:If a client decided to make you a present, what would you be happy to receive? What is your wish-list (maybe flowers, lingerie, parfume, music albums, books etc.)?
A:I'd talk to my client about give giving. I don't expect to ever receive gifts in the first place, so any gesture alone would be meaningful.
Q:What makes you notable among other providers? What exactly, you believe, you're good at? What makes your service unique? What is your favorite kind of service?
A:I find that I am able to get people to feel comfortable enough to open up around me. Being able to actively listen and provide someone an opportunity to give me insight on who they are or what they are currently going through, has been something I've noticed in many of my interactions.
Q:How do you prefer a client to make an appointment? What information is important for you? Is screening required before the appointment?
A:I prefer a client to call me, but contacting me through email is fine as well. The information that is important for me to know is get exactly what you're looking for. Whether it's to have a date at party or to go out to a bar or club. The attire that is expected at certain places. If of a more personal nature then your likes and dislikes when it comes to bring you euphoria. Let me know how best i can work with you.
Q:Do you ever get nervous before meeting a client? Is it kind of like preparing for a first date?
A:I haven't had the opportunity to have that experience yet, but I would imagine it is a bit similar.
Q:What sort of personality qualities does someone need to possess to be a successful escort?
A:They need to be very accommodating, yet stern on what they will and will not tolerate. Even though I haven't been with a client yet, simply from talking to people, not everyone will be as comfortable or perhaps overzealous in a situation with an escort.
Q:If someone wished to become an escort, how would you recommend they go about it?
A:At first I'd tell them to not be concerned with what others may say about it to you. If you can't handle others having a low opinion about what you do then you should not be in this business. that doesn't mean you necessarily need to let the world know, but for those who do keep your composure and pursue what you find to be right for you. Now you must also be sure to put yourself out there and keep up with all your outlets.
Q:What are your dreams, future goals and aspirations? Short and long term?
A:I want to be able to go into gaming development as a writer and also work on making adult sexual education programs that allow men to better please their women in bed.
Q:What types of clients do you deny to meet? Are there any restrictions?
A:Men and trans are a hard no. After that severely overweight women.
Q:What is the strangest request you have ever had from a client?
A:I'd prefer to be more confidential.
Q:Can you tell us a bit about your first escort job?
A:Haven't had any yet.
Q:What did you want to be when you were growing up?
A:I wanted to be a multitude of things. I wanted to be a doctor, racecar driver, scientist, and a football player for the Washington Redskins.
Q:Has being an escort changed your view of men?
A:I only do female clients, though I've learned that being a man, we are not as sought after as our women counterparts.
Q:How long have you been working as an escort?
A:I have been active on websites for 4 years now.
Q:How did you get into the escort business?
A:I got into it with the desire of meeting and getting to understand a range of women.
Q:What's the best bit about being an escort?
A:I can't say as I have not had any clients yet.
Q:What don't you like about being an escort?
A:I also properly answer that at this moment.
Q:How often do you work per week?
A:5 days a week
Q:What are your turn-offs?
A:I find severely over-weight women, receiving any form of anal or nipple stimulation, being dominated, bad attitudes, and uncooperativeness.
20 Sep 2017
Sara Escort - Interview
Q:Do you have a list of clients that you see regularly that you have formed a special bond with? Would you feel 'cheated' if they saw another girl like how hairdressers get mad at you if you g...
Read more